From the rolling hills of Ireland comes the stunning design and impeccable craftsmanship of Dubarry. World famous for their hand crafted boots and shoes, Dubarry uses the influence of their Irish heritage to design stunning country clothing, from traditional tweeds to ultra soft knitwear. There's seldom a country fair across the UK and Ireland where you won't see a pair of Dubarry boots or one of their perfectly tailored tweed jackets; fans of Dubarry just can't get enough of their practical, country ready clothing.
DUBARRY FIT GUIDE
Dubarry clothing is cut to a regular fit, meaning it can easily accommodate layers, and offers freedom of movement while maintaining a neat shape. For men, coats and jackets are all tailored to fit neatly over the shoulders and allow for layering and country sports, while shirts feature curved hems so they can be easily tucked in. Women's Dubarry clothing is designed to specifically fit the feminine figure, therefore many styles nip in at the waist and fit beautifully across the chest without restricting movement.
DUBARRY SIZE CONVERSION
We think that the luxurious heritage styles of Dubarry deserve to be enjoyed all over the world, so we have provided a size conversion guide, with measurements, below so that you can find the perfect fit.
We recommend checking all size guides as each individual brand converts sizes differently. Where available we display fit and individual product measurements on each product page, this can be found below the product description, however if you are still unsure, please contact us for further assistance or guidance.
UNISEX FOOTWEAR SIZE CONVERSION
| EU | 35 | 36 | 37 | 38 | 39 | 40 | 41 | 42 | 43 | 44 | 45 | 46 | 47 | 48 |
| --- | --- | --- | --- | --- | --- | --- | --- | --- | --- | --- | --- | --- | --- | --- |
| UK | 2.5 | 3.5 | 4 | 5 | 5.5 | 6.5 | 7 | 8 | 9 | 10 | 10.5 | 11 | 12 | 13 |
| US | Women 4.5 | Women 5.5 | Women 6 | Women 7 | Women 7.5 | Women 8.5 | Women 9 | Men 8.5 | Men 9.5 | Men 10.5 | Men 11 | Men 11.5 | Men 12.5 | Men 13.5 |
MENS CLOTHING SIZE GUIDE
| Product Size | XS | S | M | L | XL | XXL | XXXL |
| --- | --- | --- | --- | --- | --- | --- | --- |
| Chest (cm) | 84 - 90 | 91 - 98 | 99 - 104 | 107 - 112 | 114 - 119 | 122 - 127 | 130 - 135 |
| Waist (cm) | 76 | 81 | 87 | 92 | 97 | 102 | 107 |
MENS SHIRTS SIZE GUIDE
| Product Size | S | M | L | XL | XXL | XXXL |
| --- | --- | --- | --- | --- | --- | --- |
| Chest (cm) | 112 | 117 | 122 | 127 | 132 | 137 |
| Collar (cm) | 37 - 38 | 39 - 41 | 42 - 44 | 45 - 46 | 47 - 48 | 49 - 50 |
| Waist (cm) | 102 | 107 | 112 | 117 | 122 | 127 |
| Length (cm) | 77 | 79 | 81 | 83 | 85 | 87 |
MENS GLOVES SIZE GUIDE
| Product Size | S | M | L | XL |
| --- | --- | --- | --- | --- |
| Cm | 21 | 22 | 23 | 24 |
| Inches | 8.25 | 8.75 | 9 | 9.5 |
WOMENS CLOTHING SIZE GUIDE
| Product Size (EU) | 34 | 36 | 38 | 40 | 42 | 44 | 46 |
| --- | --- | --- | --- | --- | --- | --- | --- |
| UK | 8 | 10 | 12 | 14 | 16 | 18 | 20 |
| US | 4 | 6 | 8 | 10 | 12 | 14 | 16 |
| Bust (cm) | 81 | 86 | 91 | 97 | 102 | 107 | 112 |
| Waist (cm) | 64 | 69 | 74 | 79 | 84 | 89 | 94 |
| Hip (cm) | 84 | 89 | 94 | 99 | 104 | 109 | 115 |
WOMENS GLOVES SIZE GUIDE
| Product Size | S | M | L |
| --- | --- | --- | --- |
| CM | 19 | 20 | 21 |
| Cap Size | 7.5 | 7.75 | 8.25 |
HEADWEAR SIZE GUIDE
| Product Size | S | M | L | XL |
| --- | --- | --- | --- | --- |
| CM | 55 | 57 | 59 | 61 |
| Cap Size | 6 3/4 | 7 | 7 1/4 | 7 1/2 |
SOCKS AND BOOTLINERS SIZE GUIDE
| Product Size | S | M | L |
| --- | --- | --- | --- |
| Euro | 35-39 | 40-43 | 44-48 |
| UK | 3-5 | 6-9 | 10-13 |
FIND THE PERFECT FITTING GALWAY BOOT
Dubarry have recognised that everyone's feet are unique, developing three special variations of their classic Galway boot to cater for a range of fitting requirements. Find your perfect fit below: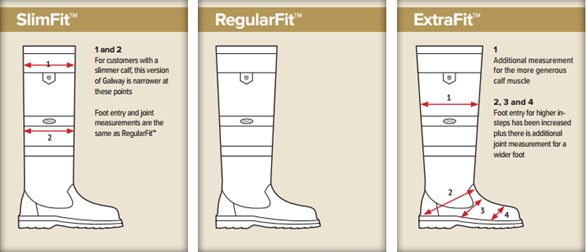 | Product Size | 35 | 36 | 37 | 38 | 39 | 40 | 41 | 42 | 43 | 44 | 45 | 46 | 47 | 48 |
| --- | --- | --- | --- | --- | --- | --- | --- | --- | --- | --- | --- | --- | --- | --- |
| Height (cm) | 41.1 | 41.9 | 42.3 | 43 | 43.5 | 43.9 | 44.3 | 45 | 45.7 | 46.4 | 47.1 | 47.8 | 48.5 | 49.2 |
| SlimFit™ (cm) | 33 | 34 | 35 | 36 | 37 | 38 | 39 | 40 | 41 | | | | | |
| RegularFit™ (cm) | 35 | 36 | 37 | 38 | 39 | 40 | 41 | 42 | 43 | 44 | 45 | 46 | 47 | 48 |
| ExtraFit™ (cm) | 37 | 38 | 39 | 40 | 41 | 42 | 43 | 44 | 45 | 46 | 47 | 48 | 49 | 50 |